In the world of design and planning, one of our biggest challenges lies in the placemaking endeavor — creating a sense of community in a new or unremarkable development lacking notable history or existing bonds among people.
How can we create anew an identity, a sense of belonging, and pride of ownership in a setting in which those aspects are nonexistent?
These characteristics are cornerstones of a successful development — whether a residential community or the proverbial third place — in contexts spanning the urban to rural transect, and their foundation lies in establishing planning and design principles focused on connectedness, diversity and flexibility.
The notion of connectedness includes not only physical connections between people and their environment, but also social and emotional connections. Diversity in our placemaking practices includes using master planning, land use, architecture and open space to provide context and variety in scale. Flexibility pertains primarily to programming, including creating spaces that offer broad appeal and adaptability to serve a multifunctional purpose.
In several ongoing North Texas projects, focusing on these three core tenets has been imperative to creating a successful identity and pride of ownership. These case studies run the gamut from rural greenfield community development, to a suburban brownfield mixed-generational community, to an urban brownfield mixed-use and residential district.

Let's start at Harvest.
Honoring heritage, celebrating community. Harvest is a 1,200-acre master-planned community built on former agricultural land in Argyle, Texas, a rural area 30 miles northeast of Fort Worth. The project began with a multiday charrette process that yielded a community vision that celebrates the site's agrarian roots and defined a framework that creates connectivity, diversity and flexibility throughout the neighborhoods. An on-site 5-acre organic farm was a distinguishing element that came from the visioning process, but the emphasis on quality planning and design principles makes Harvest stand out.
Connectivity was a guiding principle in organizing Harvest's master plan, with a 1.5-mile-long greenway spine serving as a linear park and key organizing element. The greenway is based on the earlier agrarian patterns in the landscape and provides a unifying tie throughout the entire community. Rather than privatizing connections and views to the parks and amenities, Harvest places open space throughout the public realm, where it can be enjoyed and valued by a larger cross section of residents and creates social, economic and environmental value.
For example, this framework provides more areas for social connection, greater lot value deeper into the neighborhood fabric, and a framework that promotes landscape and benefits the environment through CO2 capture, heat island reduction and stormwater management. During the charrette, this concept was formulated by designing the master plan around the open spaces and laying in the streets afterward, in addition to efforts to create safe paths for children walking to school.
Diversity was similarly important, as the variety of open spaces — both in scale and program — provide a lucid indication of where the patron is within the neighborhood as well as what type of activity is intended for each space. From individuals to small groups to gatherings of several hundred, all sizes of user groups can find an accommodating outdoor environment for nearly any event or activity.
Flexibility has been another hallmark of Harvest's success. Its parks and amenity areas are designed to encourage a limitless number of program opportunities, providing appeal to users of all ages and abilities. Harvest hosts more than 900 programmed events in parks and amenity buildings throughout the community, and soft programming provides opportunities for entrepreneurship through engagement with local businesses that support fitness camps, farmer's markets, dining and other ventures.
Harvest broke ground in 2012 and has been recognized with a variety of awards over the years, including a 2013 Texas ASLA Honor Award and a 2015 ULI North Texas Innovation Award. As part of the Landscape Architecture Foundation's 2017 Case Study Investigation program, research on Harvest found that its 279 home sales in 2016 were more than double the average (117.7) among eight actively selling, comparable master-planned communities within the region.

Now on to The Canals at Grand Park.
Connecting nature to urban sensibility. Located in rapidly growing Frisco, Texas, approximately 30 miles north of Dallas, The Canals at Grand Park is a 150-acre, multigenerational community created from a suburban brownfield site formerly home to Frisco's municipal airport. The development is based on a compact urban form organized around a framework of canals, which provides stormwater management and forms the core of the neighborhood plan.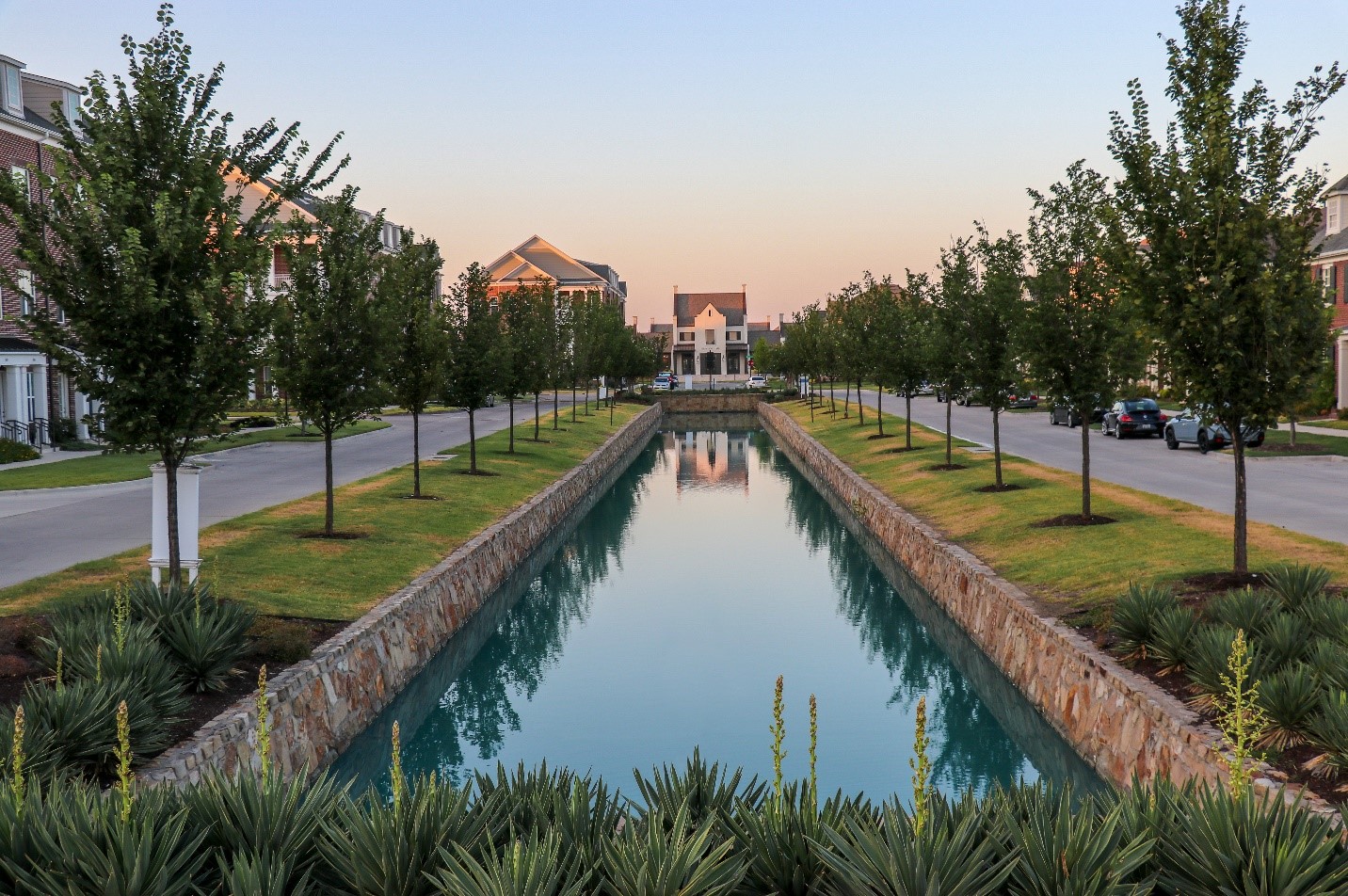 The canals create the basis of the identity, circulation framework and central open space in addition to collecting stormwater from adjacent developments to be utilized through the neighborhoods. This well-connected plan accommodates multimodal transportation complete with bike lanes and provides every patron with access to public open space within a 2.5-minute-walk.
The Canals at Grand Park was conceived as a place with rental and home ownership opportunities for every stage of life — from apartments, townhomes and flats to villas, estates and senior living — providing people from all walks of life with generational housing options across a range of scales, architectural characters, price points and level of maintenance requirements.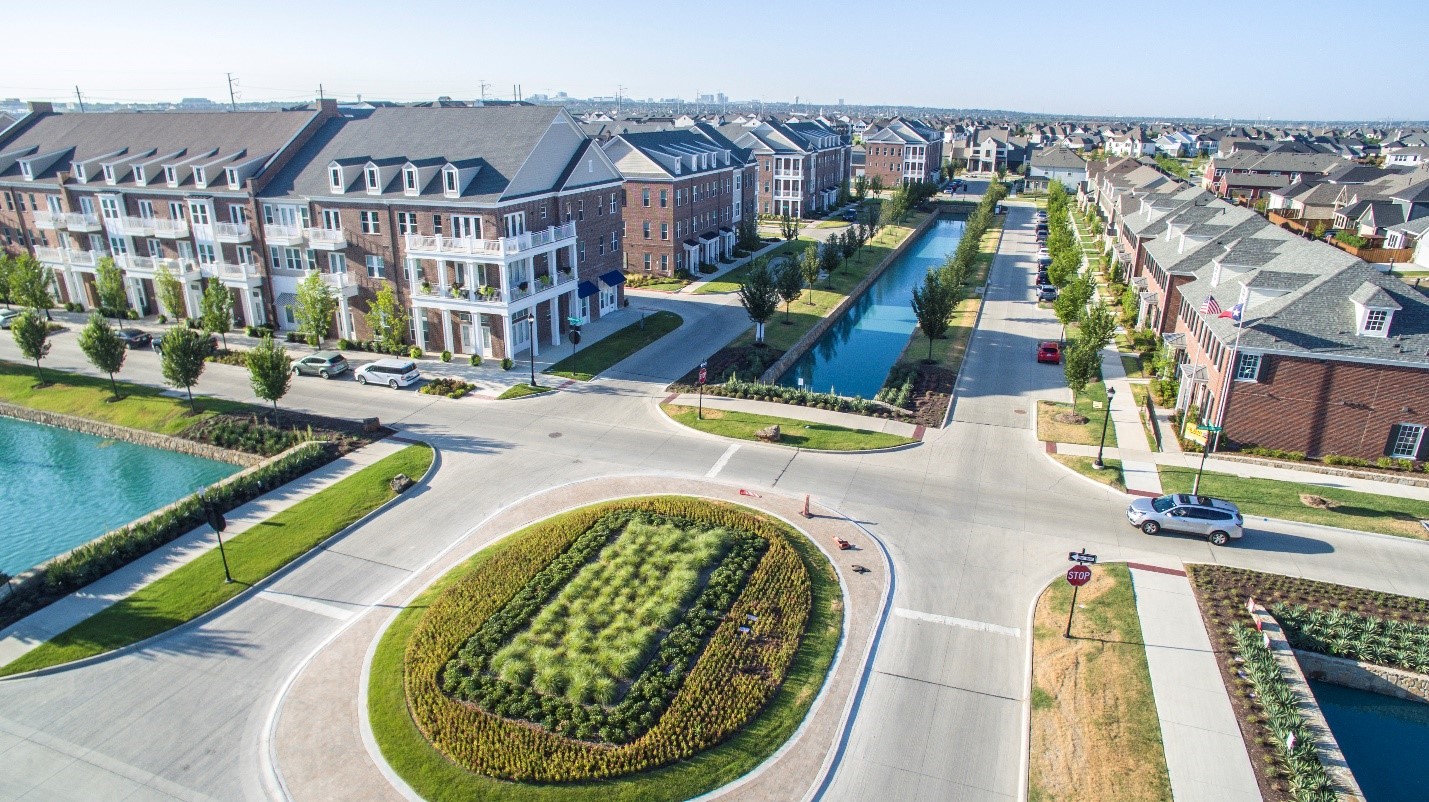 The diversity of architectural product as well as types and scales of open space is also a critical aspect in creating broad appeal for prospective homeowners and renters. The community's diverse mix of architectural character, housing product, and proximity to adjacent civic institutions and local businesses creates a neighborhood with a rich fabric.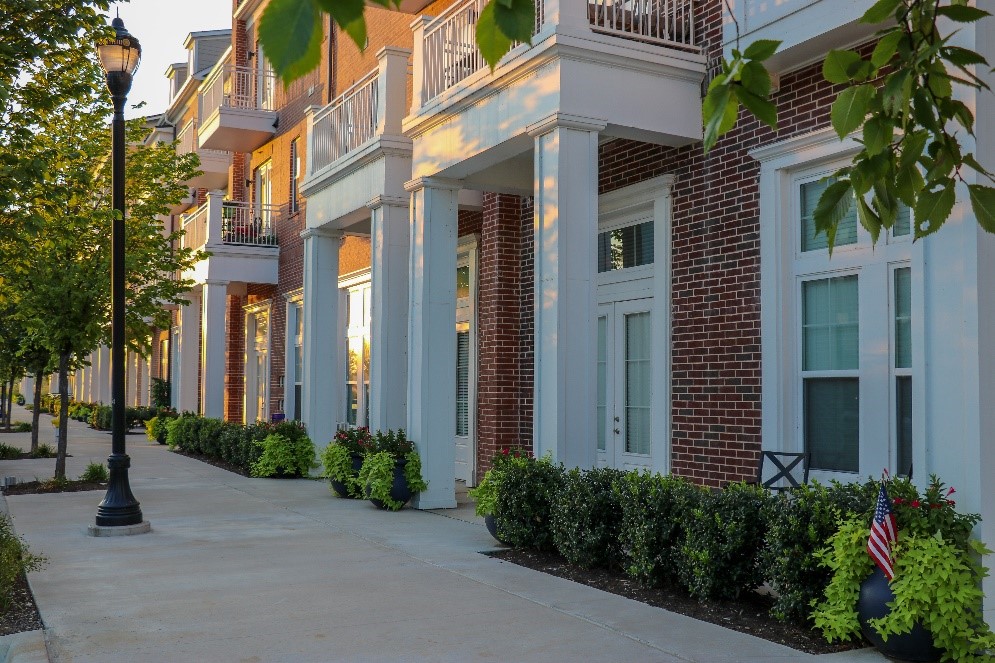 Once the framework plan was complete, TBG worked with Looney Ricks Kiss to development the neighborhood's architectural pattern, establishing a mix of styles and scales to help frame and engage a broad hierarchy of open spaces, from large-scale and public to small-scale and private.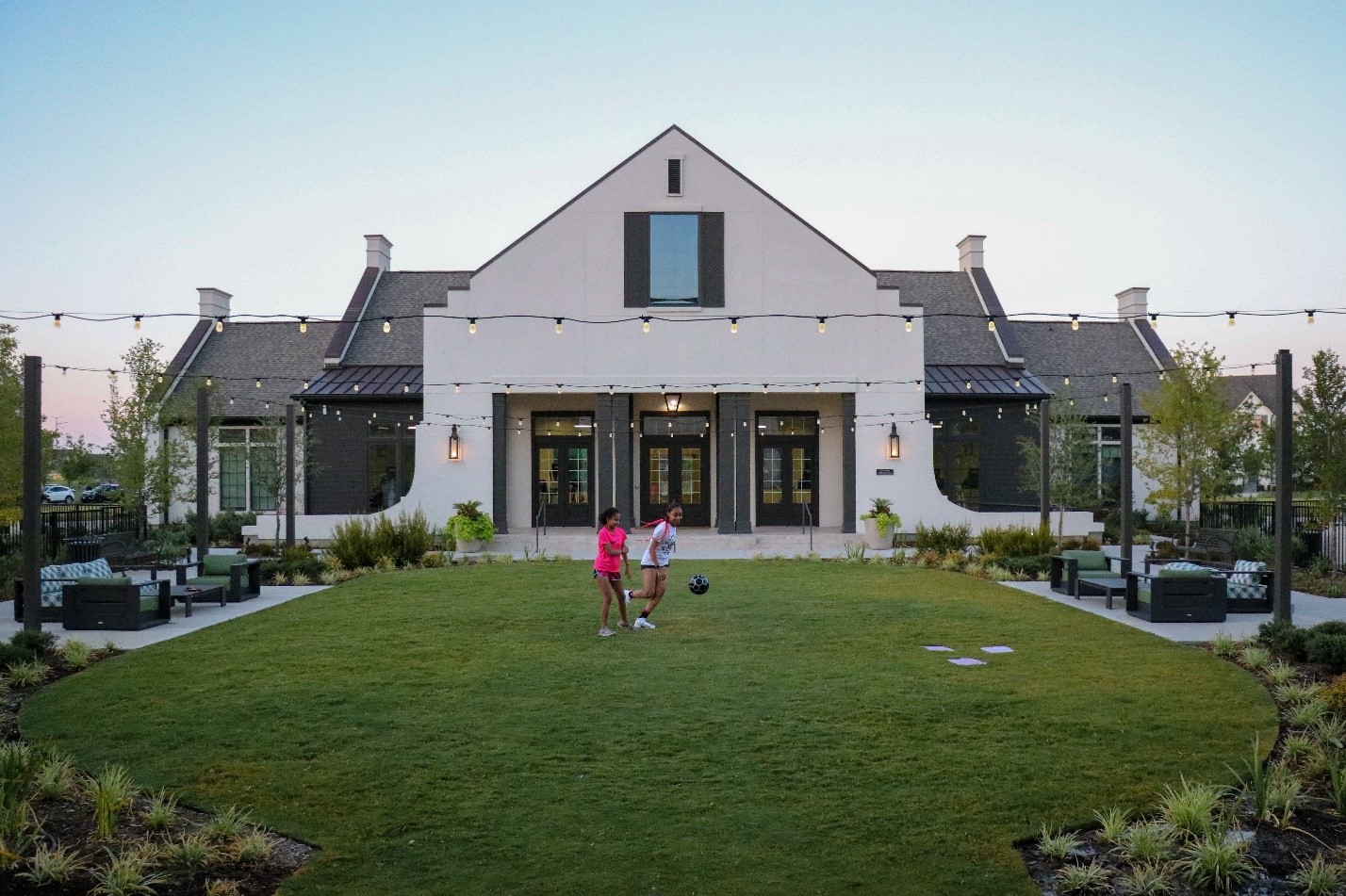 In terms of flexibility, the neighborhood plan offers a finely textured system of open spaces that accommodates outdoor living at varying scales. From intimate courtyards and neighborhood parks to the multidimensional Founder's Park, the community provides outdoor spaces for all desires and types of activities.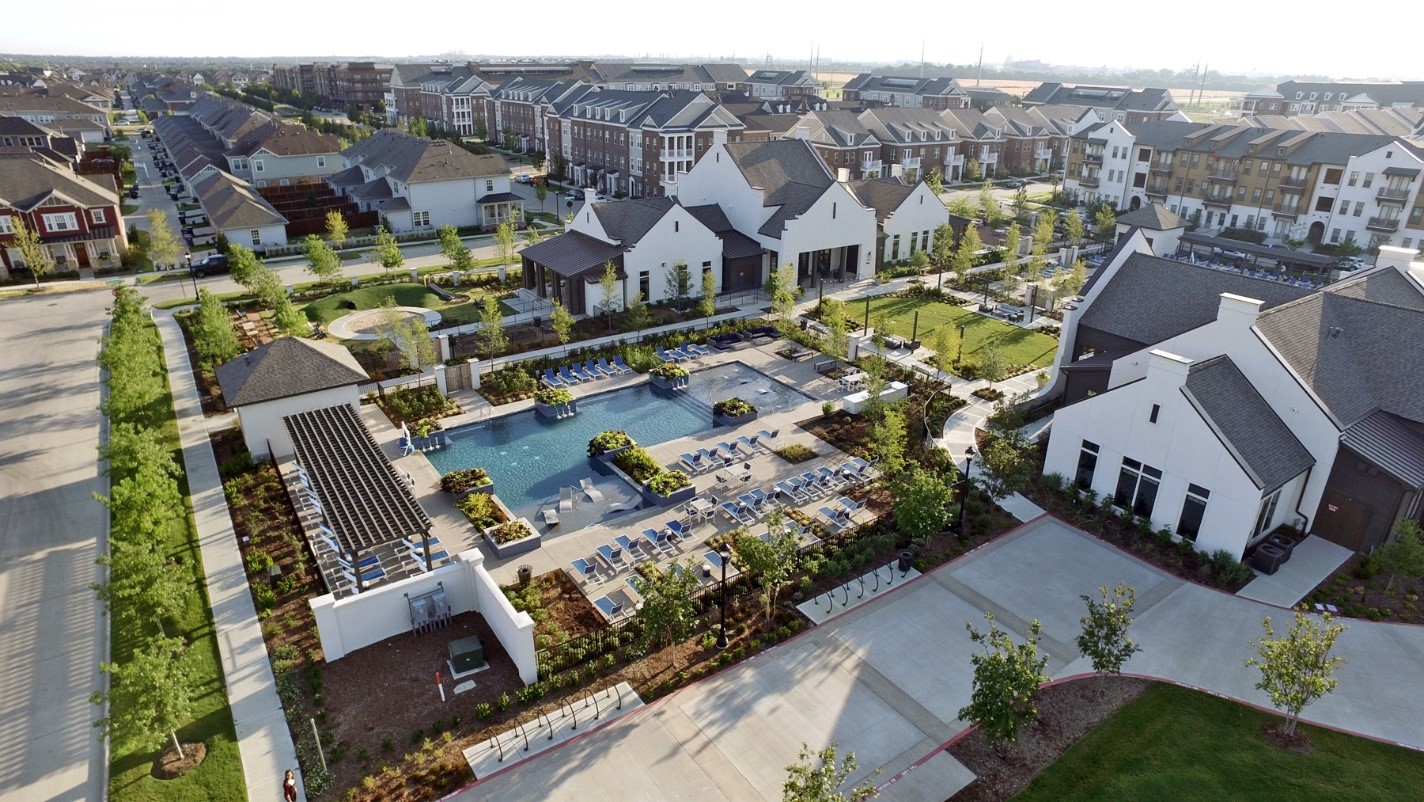 And lastly, South Main Village in Fort Worth.
In the area of Fort Worth historically known as South Main Village, an up-and-coming neighborhood formerly home to the city's garment district, thoughtful planning as well as two intimate parks are playing a key role in providing a sense of place and helping to facilitate urban renewal. The neighborhood's master plan, including the two parks, reconnects the area's historic framework and creates greater vehicular and pedestrian connectivity throughout South Main Village.
The urban brownfield site is part of an area undergoing revitalization — in coordination with the dynamic, local nonprofit group Near Southside — that includes new retail and residential development. The district's two new parks, each significantly less than an acre, are helping to reconnect the street and alley framework and provide inviting open space amenities.
The parks provide an important urban context for social interaction, diversity and valuable open space for residents, businesses and visitors to the district. They prioritize flexibility and accommodate an array of soft program opportunities, essentially serving as an adaptable hub for neighborhood activity and gathering.
They have already sparked the entrepreneurial spirit of local restaurants, artists and residential developers. In the case of the longer, narrower park, known as the Skinny, a new brewery and café, Funky Picnic, is being constructed that will allow patrons to enjoy the venue's local cuisine and treats in the park.
"The Skinny plays a huge part in our location and marketing choices," Funky Picnic co-founder Samantha Glenn said. "Once we heard about The Skinny, we were even more excited to sign our lease at 401 Bryan Avenue. We are focused on bringing the outdoors into our space, as well as finding ways to bring Funky Picnic to the outdoors. The Skinny is a perfect location within walking distance where kids, dogs and parents can run around and relax in the Texas sunshine while enjoying Funky Picnic food and beer."
The design of these two public realm spaces began by engaging locals to shape the program, and then aesthetic aspects were developed based on the neighborhood's industrial character and nature. Community participation in a design charrette and public meetings highlighted local desires for public gathering spaces and usable flex space for all types of programming, knitting the community together, and honoring the local artists and heritage of Near Southside.
The Skinny creates the park setting for existing residences and restaurants as well as a new apartment project fronting the park from the east. The park includes an accessible boardwalk with integrated pavilions and seating, multipurpose lawn, environmental graphics, limestone quarry blocks to define spaces and provide extra seating, and adjacent alley improvements.
It provides an event venue that is well-suited to accommodate concerts, markets and flexible programming, and its curb-less condition allows it to flex out into the street for additional space if needed. The park design includes many abstractions in form and detail that reflect area history, from the stitch-like form of the elevated boardwalk to the woven fabric of the steel shade structures.
The City of Fort Worth recently revised its Park Master Plan to recognize parkland encompassing 1 acre or less — a designation classified as "urban parks" — based on the success of a temporary park installation, the Magnolia Micro-Park, which converted a vacant Near Southside property into an active neighborhood destination for 21 months. The Skinny will be one of the city's first urban parks and will exemplify how small-scale, context-based parks can create great value in our historic core neighborhoods.
In each of these three case studies — varying widely in context and type, yet sharing a lack of existing identity or community bonds — adherence to thoughtful planning and design principles rooted in connectedness, diversity and flexibility has established community pride and vibrancy that unites local residents.
—
Photos: TBG Partners