As the modern issues of global warming and the economic crisis continue to escalate, people are trying to find solutions to delay negative effects or entirely alter the source of the problem. Most don't want to face the facts. Temporary solutions are a popular because a total and complete change seems insurmountable. But that is exactly what Jacque Fresco proposes in his elaborate and impressive "Venus Project".  The main aim of the project is social change towards the ultimate goal of sustainable, equal and prosperous living. The world in the Venus Project would be resource-based and would eliminate the current monetary and political framework. Ideally, it would provide a high quality of life for everyone and allow for humanity to live in an ecological and non-damaging way. This would mean changing how society itself operatesand the principles we have based our civilization on, including architecture, living habits and surroundings. The basic design idea for houses in the Venus Project would be based on adaptability and flexibility. These mass-crafted homes would be built from pre-fabricated materials that are weather resistant and eco-friendly. Houses integrated into the natural surroundings, whether it's urban, woods, islands, sea or plains, would be unique to their context and the design would meet the specific needs of its owners. Jacque Fresco's vision presents  geometrical shapes  with flowing lines, something you might find in a 1980s sci-fi flick. Clean white lines and large expanses of glass endow the outside, as well as technological features such as photovoltaic panels and thermo panes that control the level of light. These extra-safe, mass-produced and quick-to-build houses represent the future in civil design.
The  planning policies of cities would be redesigned with the vision of a more self-sustaining and environmentally friendly way of living. Practicality and accessibility would also form the basis of the cities of Venus Project.
Fresco uses the most perfect shape, the circle, to design a multi-ringed, geometrical and efficient form for his future city.
This design would save on transportation costs, increase accessibility to amenities, as well as integrate green zones and gardens within urban planning. The planning is related to the
Thünen rings
. Every ring encompasses certain facilities placed in a certain order to simplify access and transport. For inhospitable areas of the planet, Fresco suggests state-of-the-art subterranean cities with an advanced network of elevators which provide connections with the surface. These types of cities would have all the resources and amenities of normal cities. One particularly interesting design in Jacque Fresco's Venus Project is the three tripod skyscrapers, which can withstand any kind of damage and can help to diminish chaotic urban expansion. The mega-structure accommodates all the needs of the inhabitants, including parks, public spaces and amenities.  The main building materials would be concrete, glass and steel which would be reinforced and pre-stressed to ensure quality. Coastal cities are another innovative idea in the Venus Project.
The construction of such cities would solve overcrowding problems, planning predicaments, as well as bring attention to new resources and creative activities.
Technically, these cities can be built at sea as modules and can be moved in the water, and anchored in place on the sea floor. These would not only be inhabitable cities, but could also be living aquatic museums, offering education, as well as a better life for the marine life in its framework. The environment can also be used as a resource to farm marine life. Filters can be incorporated to clean the waters in its surroundings, thus maintaining equilibrium.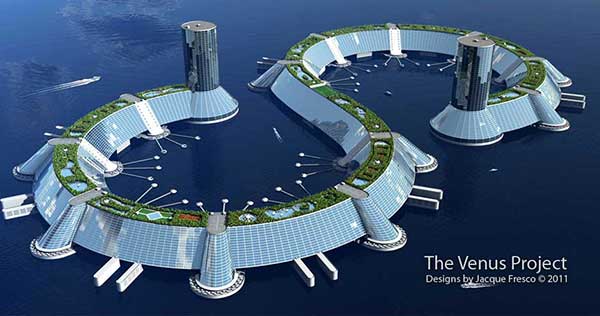 His design ideas also incorporate efficient transport systems in an attempt to reduce pollution and delays
. Of course, high-speed trains are first on the list, and sci-fi inspired detachable modules, which can be picked up while the train is moving would be featured. This practice conserves energy and makes for better logistics. Aircrafts will have different kinds of propulsion, from regular propellers to magnetic and hovering devices, even incorporating air vortex columns to lift up passengers. Cars will be eco-friendly, long range and high-speed, either with wheels or levitation devices. Voice recognition and self-monitoring systems will make for a practical and safe means of travel. The designs of the Venus Project not only push the boundaries of form and ideas, but also change our materialistic culture.
Self-sustainability, practicality and ecology are the main goals of a renewed society, which can only be obtained by smart and innovative design and planning.
Jacque Fresco's project may be far off from being reality, but it may be something we may have to resort to once our present way of living cannot be sustained any longer. To learn more about the Venus Project, 
click here
Article written by Oana Anghelache
This article was originally submitted to Landscape Architects Network
Published in Blog