Vectorworks is gearing up once again to welcome design professionals, educators and students across the globe to the 2021 Vectorworks Design Summit from Nov. 1 through Nov. 3. Like last year's event, the 2021 Design Summit will take place virtually, offering attendees the chance to hear the latest updates from Vectorworks leadership and product experts, participate in live training events and network with fellow users and Vectorworks partners—all at no cost.
"While we look forward to the day when we can all gather together in person again, we are committed to providing our users with an exceptional training and networking experience," said Vectorworks CEO Dr. Biplab Sarkar. "In fact, we hope the virtual format provides a unique opportunity for users across the world to meet and interact with one another in a way that might not have been possible at an in-person event."
Each day of the event will have a specific focus for attendees.
Monday, Nov. 1: Hear from Vectorworks leadership including CEO Dr. Biplab Sarkar, Chief Technology Officer Steve Johnson and Product Marketing Director Rubina Siddiqui, Assoc. AIA in live presentations followed by a Q&A session.
Tuesday, Nov. 2: Participate in live and on-demand trainings with Vectorworks product experts and partners on key industry topics and watch thought leadership sessions on Vectorworks best practices.
Wednesday, Nov. 3: Ask questions and connect with product experts and Vectorworks partners in an open-house style networking session.
Throughout the three-day event attendees can also expect to learn more about the company's recent launch of Vectorworks 2022, which includes the latest version of Vectorworks Landmark. The new product line includes improvements focused on Next-Gen tech (including being the first major BIM application to run natively on Apple silicon processors), 3D and BIM workflows, and interoperability. There are a few top features specifically for Landmark users.
GIS and BIM Exchange
Vectorworks is now capable of reading the georeferencing data embedded in a DWG file, an image or an IFC import, so you can now import and export files without losing any of this data. You'll see better compatibility and increased reliability when exchanging DWG and IFC files for your projects.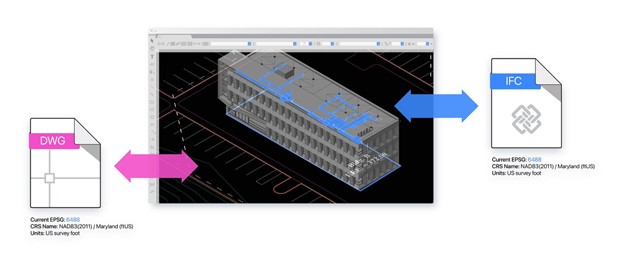 Site Model Components
Vectorworks users can now enjoy the ability to define subsurface geological strata as components within their Site Models. New site model components create solid geometry that can be accurately represented in 2D elevation, section and textured 3D views. The upgraded object components accommodate fixed or variable thicknesses of the strata, allowing you to create an accurate BIM model.
ArcGIS Feature Layers
In this latest version, you'll see a boost in your GIS/BIM workflows with easier integration for site planning and collaboration. In partnership with Esri, users can now access, download and incorporate an incredible amount of information into their designs with the vector geometry and data using Vectorworks Layers. You can also export and upload from Layers back to the ArcGIS Feature Layers, making it easier to manage specific geospatial data beyond traditional methods and collaborate with GIS professionals.
GIS Support of Tree Survey
The process for importing various tree survey types is now simpler with location parameters for geographical and cartesian coordinates built in with the newly added GIS support for tree surveys. Users benefit from the new geospatial import methods when documenting existing vegetation for biodiversity and biomass considerations and will be able to import pertinent survey area types like mass plantings, meadows and more.
Plant Root Zone
Vectorworks new root ball settings give users complete representations of installed plants. Added geometry and specified data for plant root balls provide the crucial information you need to complete your BIM for landscape workflow and better collaborate with consultants. The new additions to the Plant Object allow for both 2D and 3D representation of root balls and excavation zones.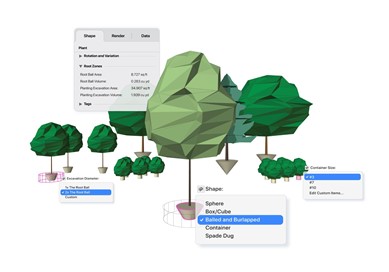 Dr. Sarkar will deliver the keynote address this year and not only elaborate on the latest innovative features of Vectorworks 2022, but also give insight into the company's new tagline, "Design without limits™."
"At Vectorworks our goal is to alleviate constraints to designers' creativity," said Dr. Sarkar. "Designers should be free from restrictive workflows and hardware, from software that doesn't understand what they want to create. We believe that all designers should be free to design without limits. We live by this mantra every day—now and moving forward."
To learn more about the 2021 Vectorworks Design Summit and to secure your spot, visit the registration page.
—
Vectorworks is a sponsor of Land8!
Published in Blog