The Landscape Architecture Foundation (LAF), the leader in national scholarships for landscape architecture students, reminds students and faculty about its 2018 award opportunities with over $125,000 available. These awards support new generations of landscape architects by recognizing leadership, rewarding superior student performance, encouraging diversity, supporting original research, and assisting students with unmet financial need. Spread the word to qualified candidates!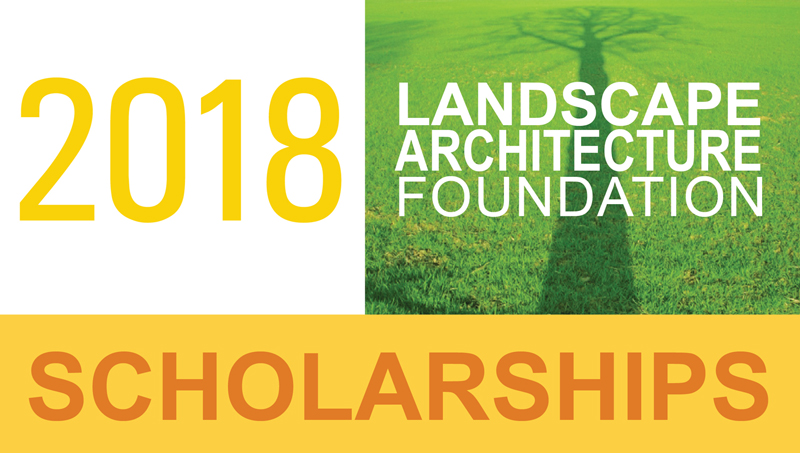 Applications due: Feb 1
This prestigious $20,000 scholarship is awarded annually to a student pursuing a Master's degree in landscape architecture in the U.S. or Canada. Candidates should demonstrate commitment to some of the areas that Joe Lalli dedicated himself to, including artistic pursuits, travel, and giving back in service to one's community and profession.
Applications due: Feb 1
LAF offers 8 different awards ranging from $2,000-$5,000. Eligible candidates are undergraduate or graduate students enrolled at colleges and universities in the U.S. and Canada. Additional requirements vary by scholarship:
ASLA Council of Fellows Scholarships
ASLA-NY Designing in the Public Realm Scholarship
EDSA Minority Scholarship
GCA/Douglas Dockery Thomas Fellowship in Garden History and Design
Hawaii Chapter/David T. Woolsey Scholarship
Landscape Forms Scholarship in Memory of Peter Schaudt, FASLA
Rain Bird Intelligent Use of Water™ Scholarship
Steven G. King Play Environments Scholarship
Nominations due: Feb 15, Submissions due: Mar 15
LAF's Olmsted Scholars Program with its $25,000 graduate and $15,000 undergraduate prize is the premier national award and recognition program for landscape architecture students. Each university may nominate one exceptional student leader from each of its LAAB-accredited landscape architecture programs to be recognized as a University Olmsted Scholar and compete for the appropriate national award. Graduate students or undergraduates currently in their fourth or fifth year are eligible.
This year, thanks to the generous support of LAF's 50 & Forward Campaign donors, Finalist awards have increased from $1,000 to $5,000 for graduates and $3,000 for undergraduates. The Olmsted Scholars Program is made possible with support from Lead Sponsor: The Toro Company; Annual Sponsors: EDSA, HOK, OLIN, Sasaki, IRONSMITH, LandDesign, Thomas C. and Gerry D. Donnelly, Steven G. King, FASLA, Bill Main, Hon. ASLA; and Promotion Partner: American Society of Landscape Architects.
Since 1986, the Landscape Architecture Foundation has awarded $1.25 million in scholarships to over 550 students. Learn more at: lafoundation.org/scholarship
Published in Blog