November's ASLA conference turned a spotlight on soils this year and offered several educational sessions on developing and promoting healthy soils.  Two of my favorite sessions included Phytotechnologies for Landscape Design: Using Plants to Clean Up Contaminated Sites, and Path of the Pioneers: Cultivating Native Prairies and Native Lawns and Soil Biology. Both sessions spoke about the importance of soils, from its environmental benefits to its essential functions as a structural material.
Image Courtesy of  American Society of Landscape Architects
Phytotechnologies for Landscape Design: Using Plants to Clean Up Contaminated Sites (Link)
Presented by Niall Kirkwood and Kate Kennan, Phytotechnologies for Landscape Design walked attendees through the usual contamination suspects as well as how to use phytotechnology, such as phytoremediation, to clean up a site.  The above phytotechnology chart maps a contaminate in relation to the clean up's estimated success rate and time frame. The chart also includes suggestions for possible phytotechnological mechanisms.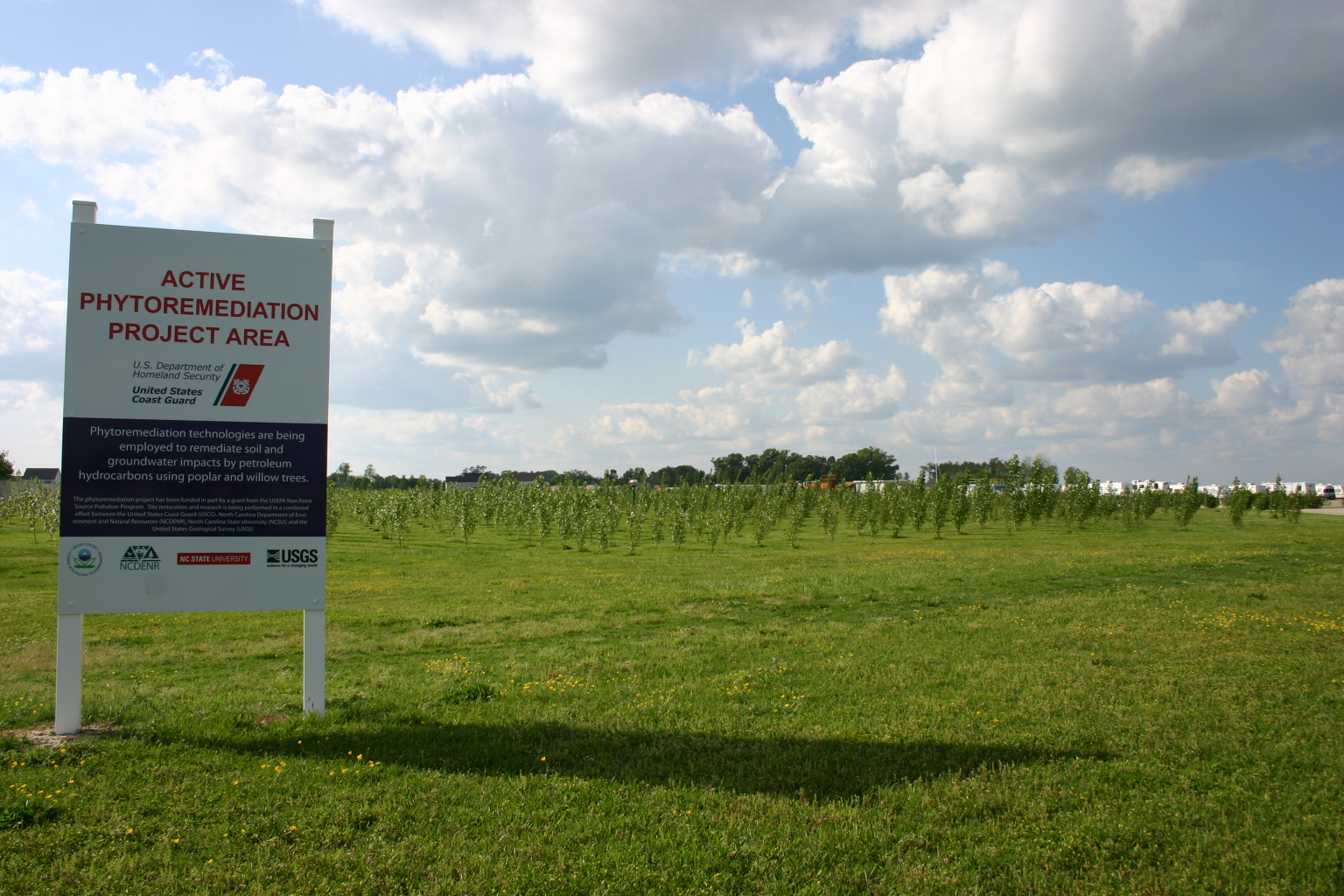 Image Courtesy of ideonexus.com
According to Kennan's presentation, organic contaminants such as petroleum, volatile organic compounds, and solvents could be cleaned up within zero to ten years using phytovolatilization, phytodegredation, rhizodegredation, or a combination of the three.  Kennen showcased the ongoing research from Jaco Vansgroveld, Hasselt University; Dr. Elizabeth Nichols and Dr. Rachel Cook from NC State University; and research from Missouri S&T. Each researcher or institution has documented experiments using a variety of plant materials such as poplars, willows, and grasses for brownfield cleanup.  
Image Courtesy of The Graduate School of Design at Harvard University
Kennen and Kirkwood also presented several of their own design typologies as a kit of phyto-parts, such as the Degradation Bosque.  Diagrammatic images were created to give designers an easy visual resource to pick and choose which parts they want to use on a contaminated site.  These design typologies will be featured in depth in their upcoming book Phyto for Landscape Design, scheduled for publication in Fall 2014.
Image Courtesy of MVVA
Path of the Pioneers: Cultivating Native Prairies and Native Lawns and Soil Biology (Link)
Presented by Herb Sweeney, Betsy Ross and Michael Bosco, Paths of the Pioneers, dove deep into the role of bacteria, fungi and the soil food web.  The superior landscape architect understands soil as a living system–not just dirt that gets pushed around. Greater knowledge of soils can guarantee the longevity of the design and help contractors quickly turn desolate, unproductive projects into rehabilitated and lush vegetation without the use of man-made chemical fertilizers.
Image Courtesy of MVVA
The speakers focused the presentation around native prairies and lawns, specifically Betsy Ross' grass fed-cattle farm in Grainger, TX and the George W. Bush Presidential Center in Dallas, TX.  Though the two projects have different programmatic uses, they both require a high understanding of soil health to preserve a true prairie landscape.
Image Courtesy of Andy Sharp
Ross pays careful attention to soil management in order to produce grass fed beef of the highest quality.  She strongly believes that the quality of her beef derives from a diet of native Texas prairie maintained without chemical fertilizers.  If you want your prairie to survive, she says, an understanding of the bacterial to fungal ratio is essential. To maintain the prairie, one needs to prevent the land from evolving into an emergent woodland. Ross recommends using a .75 to 1.5 ratio of fungus to bacteria in the soil mix.
Image Courtesy of US News
The use of liquid biological amendments and liquid compost extracts are two ways to naturally supplement a soil based on the plant type in a designed landscape.  At the George W. Bush Presidential Center, MVVA enlisted a soil science team early in the design process to help with engineered soil, compost selection, and even a planting mock up that would remain onsite for an entire year prior to construction.
Image Courtesy of Architectural Record
These two education sessions at ASLA 2013 were very insightful and eye-opening lessons on the relationship between soil science and landscape architecture. As our world rapidly develops, natural soils are being destroyed at an alarming rate.  This destruction will hinder our ability to grow new food and plants. But there is a glimmer of hope! As landscape architects, we are in a position to take action to prevent such soil destruction and grow healthy, biologically active soils.
Lead image via NRCS Soil Health
Published in Blog