With thousands of Android drawing apps out there, it is easy to get confused and frustrated while wasting your time installing them just to try them out. To help you save your nerves, time, and space on your tablet, we chose the 10 most interesting free drawing apps, played with each a bit, and wrote down our impressions. The apps were tested on a Samsung Galaxy Note 10.1 tablet, running on Android 4.1.2 Jelly Bean. We decided to check out a variety of apps — best for sketching, painting, vector work, and making quick notes, to make sure that each of you finds some of them useful for every kind of work you encounter. All listed apps are free, which means you can safely try them out before buying a full, paid-for version. Enjoy!
10. Fresco Paint Lite
A very basic, simple-to-use app, suitable for making quick sketches and notes. It allows the user to choose from a few brushes and set the thickness, hardness, and opacity. You can use multiple layers, merge or duplicate them, and change their opacity. The design of the color picker is particularly clear and easy to use. The developer also offers a paid version, Fresco Paint Pro.
9. Picasso: Draw, Paint, Doodle
A rather basic app that allows you to make a quick sketch or convey a simple message to your customer. You can sketch on an empty page or on a photograph from your device's gallery, which could be very useful when quickly discussing ideas. It allows you to change the background and the brush color, as well as the latter's thickness. You may also use a few special effects such as "glow", "spray", or "emboss". You can share the results of your work through several different apps. Picasso's functionality is limited, but it does the job in regards to being easy to use and reliable.
8. Woo: Sketch
A standard drawing app, with a few different types of pens and brushes to choose from and the layers tool. You can change each pen's thickness and opacity, as well as move the layers around and pick colors from the drawing and the color wheel. It is only a Beta version of the app, so it might be worth sticking around to see what the future (and the app developer) might bring.
7. Vector Artist
An app dedicated to creating vector art — it might not be your choice for landscape sketching, but it could prove useful as a tool for adding finishing touches to your projects. It is easy to use, and offers a range of various shapes, as well as freehand drawing tool. You are able to edit and transform your curves and add strokes, patterns, and opacity. There is also a text tool available if you need to add titles and descriptions to your drawing.
6. Skitch
An app suitable for producing very basic drawings, but extremely good for marking up existing sketches, documents, maps, and photographs. You can make your own notes, take a snapshot of the screen, or use the pre-existing "stamps" to make notes, markups, and annotations. The different colors, highlights, and arrows allow for collaboration between users easy and are stress free. You can share your work via email or through the Evernote app.
5. Serious Paint Free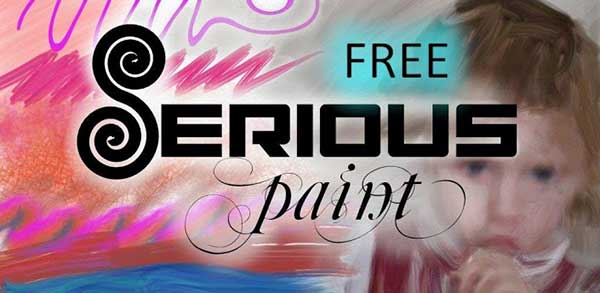 Serious Paint Free
A simple, yet very pleasant-to-use painting app, offering its users several natural brushes and intuitive color and opacity changes. The app is easy to work with, the brushes work smoothly, and the colors look natural. The color choice is particularly effective, thanks to innovative, configurable Color Sweep. If you are happy with this app, you can consider paying for the full version, Serious Paint.
4. Infinite Painter Free (Note)
This app allows you to create incredible art, using a wide variety of different tools, from a range of pencils and through a selection of brushes and some more unusual tools, such as a toothbrush. You can also create your own brushes, or download more from the Internet.
The app offers a start with a blank background or with a photograph imported from the gallery or the camera. While painting, you may use the colors from the color wheel or directly from your underpainting. The app helps you create symmetry, straight lines, and elipses. The developer also offers a version dedicated for tablets without a stylus.
3. Infinite Design
Infinite Design lets you draw using different sizes and shapes of brushes and pens. It also offers the tools dedicated to vector shapes, with options such as editing or saving the path, creating shapes via a very intuitive tool, or drawing a series of shapes with one smudge of your finger. The app will be literally a doddle for users accustomed to Adobe Illustrator. For a landscape architect, it might be a sketching app or a great tool for making page layouts and polishing drawings. The developer also provides a full, paid-for version.
2. SketchBook Express
This Autodesk app offers you tools advanced enough to allow you to create art on the go. It was never easier to make notes of the landscapes. You can choose from the wide variety of pens, brushes, and pencils. You can also make the app mirror your work, creating symmetrical results, and draw geometric shapes. Obviously, you can import photos and play with layers and their opacity. More advanced users might want to switch to the full version,  SketchBook Pro, or the sister app, SketchBook Ink.
1. Art Flow Studio
This app is great both for developing quick sketches and for creating more serious drawings. The user can benefit from utilities such as layers, blending modes, several different drawing tools, and a variety of options that let you turn the drawing sepia, smudge, or draw geometric shapes. Of course, you can load a photograph from the gallery, Google Drive, or directly from the camera. Afterward, you can easily share your work as a png or jpg. The paid-for version offers even more options.
We sincerely hope that this selection of useful drawing apps is going to help you to make the right choice. If you try any of them, we want to hear about your experience. And if you produce any great drawings, send them to us for our weekly Sketchy Saturday!
Article written by Marta Ratajszczak
Published in Blog