All eyes around the world are focused on a push for change in many aspects of life as we know it. We believe our profession should use this moment in time for open and honest discourse to let all voices shape the future of landscape architecture.
We have created an Open Space and are inviting people to come in and to listen and learn. We want people to talk about the things that they have been thinking about and wanting to talk about. If you have not had the platform to talk about it, this could be your chance. It might be because you have been trapped inside your house or you have not had the setting or time to do so in the past. It could also be that you have been talking about it, but the conversations have not yet led to tangible, long-term results. This time, we want it to lead to something- not say it to just say it.
This conference will be different from any conference you have attended in the field of landscape architecture. The conference will be opened with brief panel discussions to set the stage for a participatory discussion. The remainder of the conference will be guided by a professional open space facilitator who will encourage and guide participants. The format of our custom web interface, qiqo chat, will allow full autonomy for participants, to not only propose and lead discussions but also move around freely between them. Participants will be able to document their thoughts, strategies, and propositions in real-time using this specialized interface for robust online conferencing. We imagine this will amount to transformative experience for those who attend and the profession.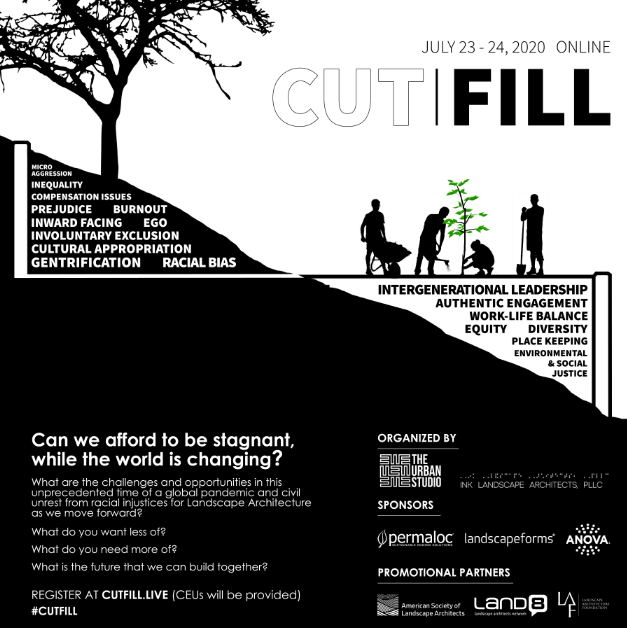 We would like to give a special thanks to Permaloc, Anova, and Landscape Forms for sponsoring this event. We would also like to recognize SASAKI and Nelson Byrd Woltz as well, for not only sponsoring the event but also supporting and encouraging their staff to attend. We have an opportunity to change. Let us be intentional about it. Let us make the most of this opportunity.
Published in Blog, Cover Story, Featured