This September, the third annual Vectorworks Design Summit took place in Baltimore. The event, hosted near its headquarters in Columbia, MD, showcased the lineup of programs the company offers to the design world, including Landmark, their landscape-oriented platform. Similar to last year's conference in Chicago, Land8 was there to bring you the latest from the software company as well as our take on the impact to landscape architects.
This is Part II of our continuing coverage of the Vectorworks Design Summit 2017:
Vectorworks Design Summit: Celebrating BIM for Landscape
What's New in Vectorworks 2018
Interview with Adam Greenspan of PWP Landscape Architecture
HISTORY OF LANDMARK
Back in the day, the capabilities that are now part of the Landmark program began as just a series of plugins for the main program. "We just decided to do it all ourselves," says Vectorworks CEO Biplab Sarkar. Doing the programming in-house allowed the company to control the evolutionary process and tailor it to user feedback more efficiently. 70% of improvements are based on comments from users. "How (else) would we know? I am not a landscape architect or architect. We rely on our users and partners," reflected Sarkar. The Design Summit also acts as a conduit for that conversation.
One of the internal struggles for the program as it has evolved since 2010 is meeting the varied requests from the full range of landscape professionals. "We talk to garden designers, landscape designers, and landscape architects and sometimes they don't actually want the new functionality we have added," shares Sarkar. In Vectorworks, everything is a smart object and getting traction with designers who are not ready (or don't want) to convert to a BIM workflow can have its difficulties.
Sarkar also reiterated that Vectorworks was one of the first programs to have a "hybrid" view of smart objects ingrained in the software. When you are looking in plan, you will actually see a separate, integrated image of an object rather than just the top view of a 3D one. What this does is allow you to reduce the burden on your computer as well as allow for variations in the style of objects from different angles. For those above-mentioned professionals that don't yet care about 3D, this allows them to build the model "in the background" while working entirely in 2D. "They might not care about it now, but when they do, it'll be there for them."
Vectorworks also hopes to target more related professionals with many of their improvements. The irrigation capabilities have been improved to allow for easier calculations and adjustments. They have also added functions for surveyors to better work with designers.
Looking forward past 2018, Sarkar shared that while they are very proud of the hardscape functions within the program, they are looking to improve on the abilities to work with warped planes and finite grading along sidewalks and roads. The implications for urban design will be profound if you are able to more quickly analyze a hardscape environment and clearly see where your spot grading might have a bust. You already have an option in the program to show drainage directionality, but the company wants to take that further.
The Vectorworks team is also very proud of all of the new augmented and virtual reality tie-ins there are now for all of their core products. The ability to easily share a model with clients over a web portal is one of the most useful attributes of all of the Vectorworks programs.
The possibilities are bright for the Landmark product and we were happy to talk to Biplab and his team to talk about new features and the future of the program.
NEW FEATURES IN LANDMARK

Site Contour Sculpting
One of the biggest requests that the Landmark team received from users was for additional functionality in editing contours in site plans. Now you can directly edit contours in 2D to make even the smallest adjustments. The contours act like polylines and have handle at intermittent vertices.

Plant Tag Images
Plant images can now be added for Vectorworks' extensive database to improve the legibility of planting plans.

GIS Tools: Tree Survey + GeoTIFFs
2018 has added some new tools that are traditionally associated with GIS programs like ArcGIS. The new tree survey capabilities removes the need for external converters and allows you to output a plan of existing trees into shape files to be used by others. You can also now import georeferenced TIFF files directly into your model.
NEW AND IMPROVED OVERALL FEATURES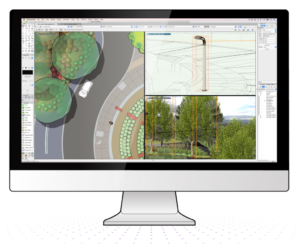 Multiple Drawing Views
I believe that this is one of the most important features of Vectorworks 2018. The ability to work in different views is one of the hallmarks of other 3D modeling software, but we see a key difference here when talking about this core functionality. When a model is being viewed in plan, Vectorworks condenses the objects into their 2D format. This allows less computing power to be used and the objects to be displayed with more iconography when available. Placement becomes easier because of the ability to move between different views and manipulate the model in real time. Multiple views also allows you to check yourself against other objects and make sure you aren't placing something "out in space" as I often find myself doing in programs like Sketchup.

Improved Revit Import
You are never going to convince the whole world to stop using Autodesk products, but in order for Vectorworks to be viable in the marketplace, you need to allow the import of other types of models with full functionality. This import function has been upgraded to translate Revit objects into native Vectorworks symbols and objects with full textures.

Worksheet Improvements
Worksheets are the backbone of a BIM workflow. Vectorworks 2018 adds new functionality of the worksheets to make your reports more automated and complex if desired.

Resource Manager Improvements
The resource manager was added last year to help you organize families of elements and models to quickly insert repeated objects into your working model. This service has been improved to allow for better searching and grouping.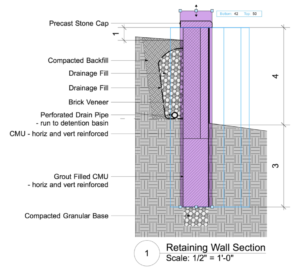 Direct Section and Elevation EditingBeing able to cut quick and useful sections of your model is one of the biggest workflow efficiencies in 3D software. Vectorworks now allows direct editing of those views to adjust or add objects across multiple layers. This allows you to make a more accurate drawing in much less time.
While this is a brief rundown of all of the new and improved features related to Landmark, there are even more new tools and improved processes in the entire suite of Vectorworks programs. You can now do 360 panoramas as well as use the improved webview for Renderworks projects. The cloud services web portal has been improved. There is also now a message center to let you know what updates are available.
Published in Blog, Cover Story, Featured