In this interview, LAN talks with Billy Goodnick, founder of Crimes Against Horticulture and author of the book "Yards".  We discuss CAH's origins, mission, role, importance, reception … and … testicle-shaped hedges. We even have Billy answer that one divisive question: Who is the biggest perpetrator of Crimes Against Horticulture — the landscaper or the designer? How did Crimes Against Horticulture come about? "I was writing for EDHAT and was part of the Santa Barbara Beautiful Awards (a competition for the most beautiful gardens) and decided to take some photos that I had collected through my work and do the Santa Barbara Not So Beautiful Awards, and I had categories like the silliest place to put a Bougainvillia, and continued doing the "Not So Beautiful Awards" the following year. About two years ago, I came across some of the Santa Barbara Not So Beautiful photos on my computer and set up a Facebook page called "Crimes Against Horticulture: When Bad Taste Meets Power Tools".  I started uploading some photos and redirecting people from my own Facebook page, and now it's grown to over 2,000 fans and I have people from all over the world posting and contributing to the page.
Image credit: Billy Goodnick |CAH FB The only other thing I can also attribute to founding CAH was that as a teenager, I used to cut out what I thought were ugly brides from the LA Times in the newlyweds section and stick them up on my bedroom wall.  Then people would come over and disagree with which brides was ugly and which wasn't, kinda eye of the beholder type of thing.  So, maybe some of that fascination spilled over into CAH … and why everyone hates me!
Well, Facebook is the primary way of connecting with people, and anyone who has a camera and Facebook connection can contribute.  I also have been doing a lot of talks at gardening clubs, shows, and botanic gardens across the U.S. and now I offer a CAH talk, among others.  I've had to innovate, because it gets really old real quick after five slides and five snarky comments, so as a takeaway, sustainability has become a focus of the talks.  So people won't put a plant in too small a space, that they'll choose the right plant and maintain it correctly, and at the end you'll have an appreciation for the aesthetic, so if you do end up having to do something to the plant it won't end up as fuel for my rapier wit. So, I've probably done six CAH talks in the last six months.  It's fun, and if you've seen the CAH website, the CAH crime scene tape, I give away a roll of that for whoever can come up with the silliest, snarkiest comment in response to an image of a CAH. 
Usually, it's the most adult humor that wins.
  Somebody calls a topiary hedge a meatball, another person calls it a testicle, the testicle is gonna win. Just because it's got that fun factor.  I do the same for the Facebook page with a caption contest, giving away a roll of CAH crime scene tape. On top of promoting the CAH message, I have a book out, "Yards", which is mostly about garden design.  I realized that to get the speaking gigs that I really wanted, I needed to be an author. I had no dreams of writing the next great garden design book; I never thought of myself as a writer. I thought I had nothing to contribute. How could I write a book and be lazy about it? So the book started out as CAH and consisted of a collection of my numerous CAH blog posts, with a strong underlying theme of sustainability.  So at the end, you would have Billy's vision of what landscape design should be. I said that it was going to be Michael Pollen meets Dave Barry meets Martha Stewart meets Pee Wee Herman on acid. 
However, no book publisher would touch (a strictly CAH book) with a 10-foot pole, because it was just too weird.
However, St. Lynns Press said let's keep talking, and that's how "Yards" came about, with a chapter dedicated to CAH in the back.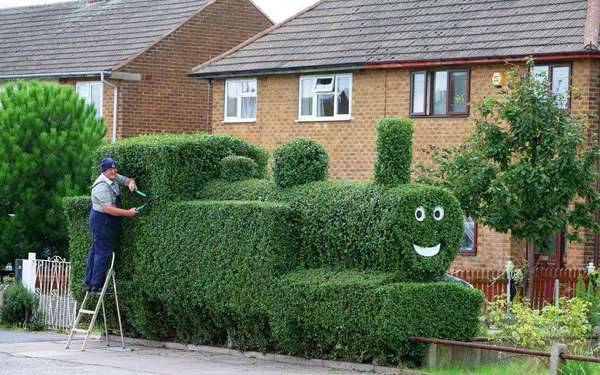 Image credit: Billy Goodnick |CAH FB
What has the response to CAH been like?
On some blog posts, you'll see some nasty comments like
"Who are you tell us what to do",
"
You're a b@$#@$d"
, etc., but my response has always been
that it is not just about aesthetics, but the sustainability, the green waste, and the fact that somebody gets paid to do it. 
Fortunately, I never hear back from the people I have shamed. However, there have been a few instances from people who have a stick up their backside. Most people who come to the Facebook page are there for the humor and I'm just preaching to the choir.  However, I don't have any real way for gauging the reaction from those projects which are shamed on CAH.
What do you feel is the solution to preventing CAH in landscape architecture?
Better planting knowledge. I'm so surprised to see many garden design, landscape design, and landscape architecture courses with little focus on botany, spatial planting design, and right plant right place. But knowledge is only one part of the problem; another is the working knowledge of contractors who are planting and maintaining the shrubs, trees, and perennials that are chosen by the designer. So unless you have each party taking responsibility for their actions, you're always going to have crimes against horticulture.
Image credit: Billy Goodnick |CAH FB
Who is the biggest perpetrator of Crimes Against Horticulture: landscapers or landscape architects?
While some landscape designers are at fault by specifying a plant species that will outgrow a space within a year, landscapers and contractors are just as guilty by hacking away at evergreen hedges with a trimmer until you end up with a phallic hedge and a set of green testes.
Image credit: Billy Goodnick |CAH FB
What is the future for CAH?
To raise greater awareness among the public of the utter stupidity of "supposed" professionals and of the potential sustainability of our landscapes, if managed properly, through twisted humor and comic wit. Check out Billy's book "
Yards: Turn Any Outdoor Space Into the Garden of Your Dreams
" Interview conducted by
Joe Clancy
Published in Blog