Sponsored Post
Get on the BIM Wagon Now, or Forever Remain a Bystander
Environment for Revit®, unlocking the power of BIM for landscape architecture.
By Nehama Shechter-Baraban and Oren Ben-Ner
For no fault of their own, landscape architects have been slow to adopt the Building Information Modeling (BIM) approach to project design. Consequently, in an AEC industry where BIM is the norm, landscape architecture isn't given the place or significance it deserves, resulting not only in greater expense and delays, but in poorer design and execution outcomes.
Environment for Revit® has removed the obstacles to transitioning to BIM, creating an unparalleled BIM for landscape architecture experience. Sitting on the BIM fence is now a matter of choice, and we would do best to choose otherwise. Let's understand why.
Be an outsider?
In the AEC industry, those that are responsible for designing the outside are often treated as outsiders by the rest of the design team. This might sound right linguistically, but from an efficiency, cost, and quality perspective, it's quite an absurdity,and is a constant source of frustration to landscape and site design professionals, as well as to project managers, contractors, owners, and others.
At the core of this warped state-of-affairs is the fact that, until recently, BIM technologies have largely excluded landscape architecture. The rest of the planning and design team works collaboratively on the same data-driven 3D model, while the landscape team members work offline in older technologies, AutoCAD, for example. This disconnect leads to issues such as:
Landscape design elements requiring substantially more time and effort to complete than elements from other teams.
Landscape plans and updates being consistently delivered "after the fact", i.e.after changes have been made by other teams, often meaning that changes must be made and undone on a regular basis.
An inability on the part of landscape architects to give timely design input on the model, frequently leading to unfortunate or improper design decisions.
Driven by BIM mandates or simple impatience, other design professionals may take on site design tasks. Without knowledge of the required workflows and techniques, the results can be sub-par, or worse.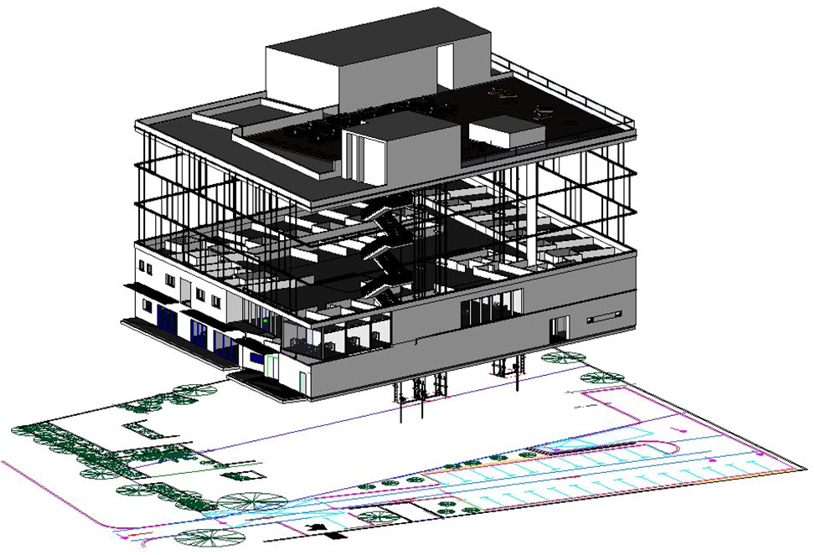 Today, however, Environment for Revit® is changing this status quo. Built by landscape architects for landscape architects; offering over 50 tools specifically for data-driven landscape and site design, including grading and topography manipulation, planting planning and scatter, wall design, railing placement, collaboration with AutoCAD® and Civil 3D®, and much more; seamlessly integrated into the world's most popular BIM software, Autodesk's Revit®; and technologically advanced, based on sophisticated algorithms and boasting an abundance of smart automations, Environment emboldens landscape architects to move to and flourish with BIM, finally taking their rightful place at the BIM table.
Amongst others, BIM-empowered landscape architects can now:
Be a part of the team – Collaboration
Working on the "live" model, along with the rest of the project team, allows us to see what others are planning, and create or update our designs accordingly, or, alternatively, to suggest to others to do things differently. Moreover, any changes we, or others make are instantly reflected in the model, letting us provide and receive immediate feedback and to take appropriate action. No more potholes in the middle of lawns.
Be the voice of the planet – Sustainability
There are few vocations that are more connected to the earth and the environment than landscape architecture. The decisions we make impact our natural surroundings, and these same natural surroundings impact our decisions.
By definition, we must be attuned to the ecosystem, and we need to ensure its preservation in the projects we work on. Whether it's making sure there's enough water infiltration into the soil or designing a "green lung" in cities short on fresh air, now that we are equal members of the BIM teams and have all of the underlying data, we can voice our sustainable design thoughts and they will be heard.
Be a player – Implementing BIM
Saying that we can move to BIM and doing it, are two different things. Luckily, however, they are no longer too far apart. Having helped hundreds of landscape architects shift to BIM over the past few years, we've identified 4 basic steps which you can follow to implement BIM in your own firm:
Step 1 – Learn Revit
The current state of the industry is that the combination of landscape architecture and Revit skills is still rare. As such, you should look to train practicing professionals rather than wait for Revit landscape experts to emerge.
Furthermore, the learning process will give you valuable insights into the proper workflows needed to create a data-rich model that communicates with other disciplines. Revit is an advanced and elaborate work tool, and the more you know the more you'll get out of it. (If you'd like information regarding our full landscape for Revit course, please contact us or reach out to our reseller in your region).
Step 2 – Create a template file
Fundamentally, a template file contains all of your work standards, from unit standards, font and line styles, and commonly used site elements, to spreadsheets that automatically calculate quantities and different materials for your project's views. The better this template is, the better your work will be.
Soon after learning Revit, you'll be able to begin cultivating your first template files. To help you out, Arch-Intelligence offers a rich landscape template for Revit, that you can grab here.

Step 3 – Implement Revit For landscape on live projects
Jump right into the water and start using Revit, as soon as possible, and begin mastering the Environment for Revit® toolset. We highly recommend practicing on real projects, even if it's a bit bumpy, at first. When beginning your learning, use a fully planned project to avoid planning delays because you are new to the software. Also check out our YouTube channel for reliable learning resources. Of course, we, and our worldwide network of resellers, are always here to help.
Step 4 – Let CAD Go… And Don't Look Back!
Whether your learning curve is long and steep or short and quick, don't be tempted to revert to your comfort zone, it will only slow you down. We assure you, at some point, you'll begin wondering why you didn't take the leap from CAD even sooner.
So, what are you waiting for? Transition to BIM and you will soon reap the rewards of your learning. Embrace the future and implement BIM with Environment for Revit®.
—
This publication is independent of Autodesk, Inc., and is not authorized by, endorsed by, sponsored by, affiliated with, or otherwise approved by Autodesk, Inc. Autodesk and Revit are registered trademarks or trademarks of Autodesk, Inc., in the USA and other countries.
Sponsored Post
Published in Blog, Cover Story, Featured