LARE's Section 2: Site Inventory and Analysis at first glance is one of the easier sections because it is one of the most covered set of topics in school. However, the section covers topics that include a level of analysis that will require you to brush up on specific regulations and requirements and apply those in a critical manner on a wide range of exercises. Some of the information here is also applicable to others sections of the exam.
OVERVIEW OF SECTION 2
The focus of Section 2 of the LARE is Analysis and Site Inventory with 'Site Inventory' covering 22% of the topics and 'Analysis of Existing Conditions' covering the remaining 78%. This is essentially a part of Section B of the old version of the test. While the topics are the same, this section, like the other three, is now completely computer-based. The entire section is also multiple choice. One benefit of the new computer-based test is the ability to flag a question so you can easily come back to it at a later time.
You will have 2 hours for the test consisting of 80 questions.
Because analysis takes up the vast majority of the exam, you are going to have to be able to think critically with limited information given and apply your skills to very specific situations. One problem that myself and other test takers discovered is that you find yourself thinking too outside the testing parameters. Pay careful attention to the information given and first try to determine your solution based on the presented variables. Often times over thinking is possible in these situations so try and do your best to stick to what they give you.
Before moving forward – please take a look at CLARB's LARE Orientation Guide if you haven't already.
SECTION 2 ONLINE RESOURCES
LARE Exam Google Group
One of the best places on the Internet right now to get study materials as well as feedback on questions that you might have about the exam is the unofficial LARE EXAM Google group. Here hundreds of test takers as well as test prep professionals exchange exam tips and study materials.
L.A.R.E. – ANYTHING GOES Land8 Group
If you haven't already joined Brandon Reed's Land8 LARE group, what are you waiting for? This is also another fantastic resource for members to swap study materials and ask questions.
Digital Flash Cards
Using flash cards is one of my favorite ways to study, especially if they've been pre-made. Many people – including myself – have created personal study material flashcards that are ready to use. Making your own flashcards is a great way to study however, so I still encourage you to create your own set tailored to your own preferences. I would also recommend installing a flashcard app that links to a site like Cram so you have your cards on the go.
SECTION 2 TEST PREP PRODUCTS

CLARB Practice Test
These are a must-have if you want the most accurate representation of topics covered in the new exam.
PPI: Power to Pass Exam Reviews
PPI has long provided test prep materials including practice exams and study guides. The books are written by professors and professionals in the industry and are a good overall resource to study for the new exam formats. They seem to have retrofitted their older Section A-E materials into a new package for Sections 1-4, however which may make the materials a little less accurate than before.
Kevin Worthington's LARE Study Guides
Cheryl Corson Design Webinars
Land8 member Cheryl Corson is well known for her LARE webinars and her great advice for taking the LARE.
Local Test Prep Course
Take a look and see if there is a test prep course in your area. Some colleges offer courses or you may be able to find a practitioner that is getting their side-hustle on.
SECTION 2 READING LIST
As with Section 1 of the test, I believe that a lot of the knowledge for this section is material that you covered in school. Most of the information in these books will be a refresher. See if there are any other low cost options such as the public library, your company purchasing the books, or renting. The first three recommended readings on this list from CLARB are large books filled with tons of information. A lot of that info is repeated and some feel that purchasing all of them is a waste of time. If you have your hands on a good study guide such as the PPI, I would recommend just getting one of the first three.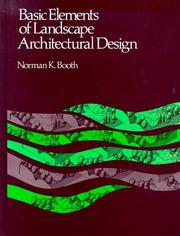 Basic Elements of Landscape Architectural Design  |  Booth
This book is great resource to have whether you are studying for the test or not. The book breaks down landscape architectural concepts into simple graphics and explanations. Originally published in 1989, this book covers the gamut including "landform, plant materials, buildings, pavement, site structures, and water."
Site Analysis: A Contextual Approach to Sustainable Land Planning and Site Design
Site Analysis has a lot of the same information as the above book, just in much, much more detail. Some of this is also repeated in another gigantic textbook – Time Saver Standards. Unless you are starting to study months in advance, I would recommend using your money to invest in a good study guide rather than leaf through this entire to me.
Site Planning and Design Handbook
The same can be said for this book as the one above it. There is a lot of repeated information that you can get from other sources. Given the price of the book, unless there is a way that you can borrow or rent it, I would try and find an assembled study guide rather than shell out so much for some of the same information.
The Living Landscape: An Ecological Approach to Landscape Planning
CLARB is really trying to integrate more sustainability into the LARE in recent years. Because of this, I would recommend picking up a copy of this book if possible. Older study guides do not cover as much "green" material and there is only one current practice exam at the time of this post. The checklists and step-by-step guides are particularly helpful to remember. While there wont be as many sustainability questions as there are simple analysis ones, this book is useful mostly because it isn't the same book repeated 2 times (see above 3 books).
RECOMMENDED STUDY METHODS FOR SECTION 2
My process for studying for Section 2 closely resembled that of Section 1. I also took Sections 1 and 2 at the same time because they both require you to study the same way. Get your hands on a good study guide or read through the books and make your own. Flash cards are your friend here as much of the exam is subject/definition style and less problem solving. As with Section 1, wait until you have covered most of your study material before you jump into the practice exams since there is only one that is up to date.
Good luck!
This is part of an ongoing series spotlighting the Landscape Architecture Registration Examination (LARE) administered by the Council of Landscape Architectural Registration Boards (CLARB). If you have any resources that you can add to this guide we would be happy to include you and give you credit. Please contact the author Benjamin Boyd if you have any additional resources that you'd like to share.
Check out our guide to Section 1: Project and Construction Administration
Published in Blog