Week in week out we bring you 10 incredible displays of sketchy talents, showing you that this ancient skill is alive and thriving in a digital age of computers and fancy software packages. The sketches this week are raw and electric with some terrific use of colors and techniques, each one with it's own unique character, acting as a visual extension of the artists signature. Thank you for making Sketchy Saturday what it is! Here are this week's Top 10: 10. Sketch by Andrey Chernykh landscape designer from Toronto
"The sketch was done as part of my documentation of my journey to Almaty, Kazakhstan in summer 2013. I was hiking through the mountains and while approaching a turn in the road I witnessed that incredible view, and sketched it in pencil on the spot, then coloured it later on. The medium is watercolour on paper, done in a realistic style".
9. Alan Ramiro Manning, 4th year Architecture student at Woodbury University, Burbank, Ca.
"The projects intent is to manipulate the existing topography by exploring the tilted plain, and how one can inhabit the constant flux of changing platforms.  The goal is to encourage more movement and activity between programs and spaces by providing pathways that connect to one another by either overlapping, splitting, or intersecting with others.  This sketch is done as a two-point perspective section axon in order to understand what are the possibilities between the interchanging floor plains".
8. Kristen Kuzdub, Canada
'This is one of a series of five sketches (drawn with pencil on vellum) that show spatial qualities throughout an Urban Design Proposal for Downtown Winnipeg. This sketch views through the proposed main public square which is surrounded by proposed shops and existing streets, a proposed co-operative building is in the background. It provides a sense of scale and understanding to the design elements for this public square".
7. Karolina Lopusinska, landscape architect, Birmingham, UK
'This drawing was made for practice and pleasure purpose to show this beautiful place. It's Botanical Garden and Glasshouses in Birmingham, UK. The style is my own, with particular attention to study trees and plants form. I used pencils on textured paper.'
6.María Fernanda Moscoso Calle, Architecture student, Ecuador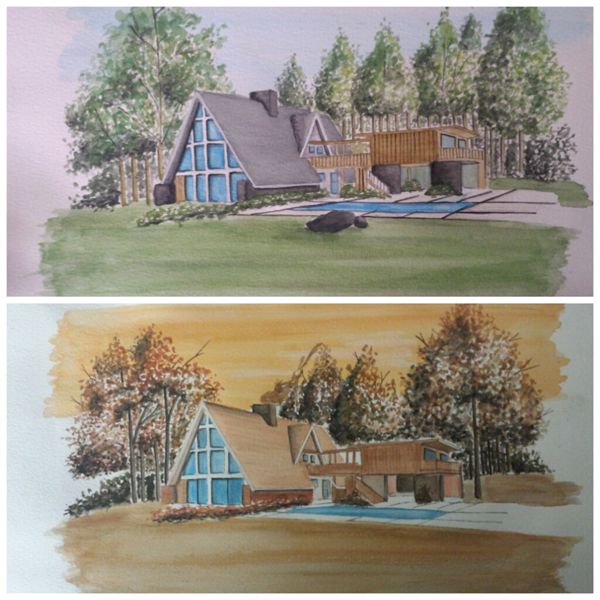 "I made this sketch when I was studying my first year of architecture. There isn't a particular location because it was drawn based on a book of painting techniques. The sketch was done in watercolor and paper. The first sketch shows the predominance of cold colors such as blue and green while the second one shows the use of warm colors such as red, yellow and orange. The trees are the product of mix several colors including a touch of black for enhance the shade and make it more realistic".
5.  Albert C. Del Rosario, Reg, License Architect – (UAP),  Philippines
Ok, so this is completely interior, but it was included in our Sketchy Saturday top 10, due to the level of intricate detail that went into it. "The sketch was pen and ink on tracing paper, done (2002) a Dining Room interior design proposal for one of the Saudi Prince, for his house in Morocco. Client requested that the dining room must have the style and feeling of a classic Moroccan, for this royal house is located in "Rabat Morocco". The interior used Gypsum moldings, cornices and and friezes plus bright colored finish wood beams and corbels on the ceiling. Colorful Handmade Moroccan Mosaic tiles Dado Panels on wall and floor combination with Marble pattern at the center".
4. Huy Nguyen, M.Arch student at Ball State University, Muncie, IN, USA
" I love drawings and I sketch/draw mainly for relax. However, I see a great benefit from drawing architecture/landscape since it allows me to observe more careful and more detail at buildings/landscape. Therefore I can understand architecture/landscape better and it creates chances for new ideas.Location of sketch: Hanoi, Vietnam, Material used: Pencil". 3.Karolina Ciok Yes, we can see the smoke too, but this entire building looks like it's on fire! These deep sensual colors and rich tones, really pull you in and take you away to an industrial age. The artist certainly has to be brave to pull off a piece of work like this, so much can go wrong with this technique it's so easy to over do it, but Karoline managed to pull it all together and create one fantastic piece of art. 2. Peter McQuillan
Peter is becoming a regular contributor to our increasingly popular Sketchy Saturday, you can see his previous work
here!
Peter expresses an unmistakable style that he uses to create almost dreamlike settings of his landscapes. In this piece of art  feelings of relaxation and calm are created, making this a very inviting and desirable space.
1. Mirsa Gishti
There's something eerie and beautiful about this picture that I just loved, with obvious focus on the building itself, the artist somehow met the challenge of creating intrigue around the edges, to such an extent that you want the artist to sketch more, so we can find out what secrets lie beyond the scene of what is presented. – We hope you enjoy Sketchy Saturday as much as we do, it really is one of the highlights of our daily publications on LAN. What makes this feature so unique is that we create it together, long may it continue! Check out the
Sketchy Saturday official Facebook album 
and see literally hundreds of incredible sketches! If you want to take part send your entries into us at 
office@landarchs.com
Recommended reading:
Sketching from the Imagination: An Insight into Creative Drawing
 by 3DTotal Article written by Scott D. Renwick
Published in Blog